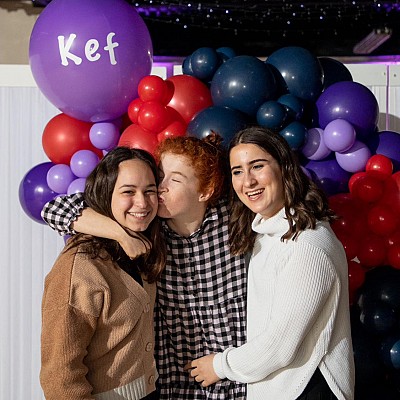 The families of KEF enjoyed a pre-Chanukah event at the Hasmonean Girls School. The hall was transformed with colourful lighting, and beautifully laid tables and balloons gave it a festive and exciting atmosphere. Families were greeted by volunteers to support both their KEF child and their siblings, enabling the parents to enjoy and connect with the other KEF parents whilst their children were being entertained. One of the main aims of our family events is to provide unique opportunities for families to network and bond, creating a community of support.

Activities for children included face painting, a photo booth, various arts and crafts and most exciting of all, a live concert together with Avi Kraus and Hershele Rosenberg. It was a treat to sample the first (but definitely not the last!) doughnuts of the season, as well as a hot buffet of savoury and sweet options including a "make your own s'mores station" tastefully catered by Maxine.

For the first time this year, KEF was privileged and honoured that several grandparents joined the event, which gave them a glimpse into the magical world of KEF that their grandchild/ren belong to. Rabbi Dovid Sulzbacher, proud grandfather of Yehuda, commented: "As grandparents we can see how much KEF enriches the lives of our children. The times that KEF take care of our lovely grandson, allow our children to relax and spend more time with the rest of the family. This event was just one of many events organised by KEF. We were so grateful to be invited to see firsthand the love and care shown by all the volunteers towards the children and their families."

One of our KEF parents messaged, "Thank you yet again KEF for the most fantastic night! You had something for everyone - activities, delicious food galore, music and lots of amazing volunteers - you are incredible, thank you everyone." Another parent commented, "Bullseye once again! Thanks for the untiring support and what was obviously a super enjoyed event."