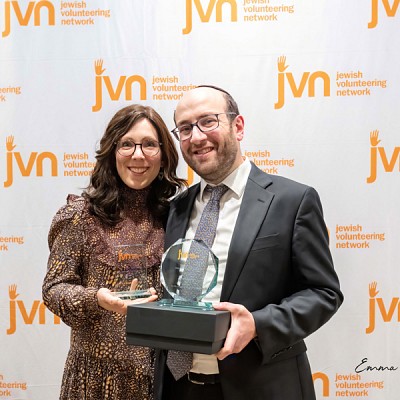 Dr Spitzer awarded 'Outstanding Volunteer of the Year'
The Jewish Volunteering Network Celebration of Volunteering Awards 2022 took place at the Grove Hotel in Hertfordshire this past Sunday night. KEF KIDS was among many other charities represented from within the Jewish community, with approximately 400 people in attendance. Charities nominated individuals and groups within their staff/volunteer network for various award categories. KEF was honoured and absolutely thrilled that their nominee, Dr David Spitzer, received the Wohl Legacy Outstanding Volunteer of the Year 2022 award. Dr Spitzer was selected via an independent panel from approximately 40 other candidates.

Dr David Spitzer has been volunteering for KEF KIDS since August 2016 as a GP at our residential schemes for children with disabilities as well as supporting KEF throughout the year as a key member of the senior team as a medical advisor, in a voluntary capacity. Dr Spitzer has dedicated time out of his busy work schedule and taking leave to volunteer at our residential schemes during both the Winter and Summer holidays and residential weekends throughout the year. Dr Spitzer is joined by his wonderful wife Devora and 6 lovely children. This past winter was family Spitzer's 12th residential camp.

Dr Spitzer's involvement has been beyond all expectations both in his commitment to KEF as our medical advisor supporting our services throughout the year, and in terms of his ongoing commitment to so many residential schemes, dedicating hundreds of hours to KEF as our GP. During COVID, Dr Spitzer was instrumental in providing very regular guidance to ensure that KEF services were safe and protected. Dr Spitzer will do everything to make himself available both night and day to provide medical advice for KEF.

In the words of one of our KEF parents, "Our child has highly complex medical needs and we have only been able to send him to camp kef (so we can get respite) due to Dr MD Spitzer volunteering his time and expertise summer and winter for years! He takes on this enormous responsibility with humility, good humour, warmth and love… enables us to truly relax and enjoy our break. He is an exceptional doctor, an incredible person and an outstanding volunteer."

KEF KIDS owes Dr Spitzer our deepest gratitude, and we are so delighted that this outstanding commitment has been recognised with this award.