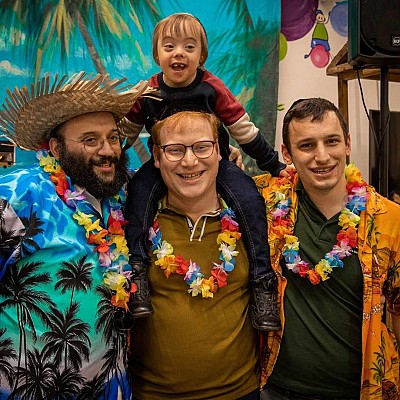 KEF PURIM IN HAWAII!
It was wonderful to once again welcome over 250 KEF family members back to our KEF Centre for our annual family Purim party this Sunday. Guests were transported to a Hawaiian island complete with tiki huts, raffia parasols and a tropical beach backdrop. The kids enjoyed bungee trampolining, arcade bus, bubble workshop, face painting, bead bar, arts & crafts and a concert by Shayele Gluck and Chezky Honig.
While the KEF children and their siblings were entertained, their parents spent quality time together – enjoying delicious soups, salads, exotic smoothies and gourmet cakes. One of the mothers commented, "It was so nice for me to chat with other parents whilst enjoying the delicious cheese cake".
Everyone felt the excitement of having the KEF Centre filled with our KEF families sharing Purim fun. The children who were overwhelmed with the busy party environment were able to take time out in the on-site bespoke soft play, sensory room and chill areas.
Purim is a time of joy, and we would like to thank all our volunteers and supporters for bringing so much happiness into the lives of the children and young people at KEF and their families. KEF is a lifeline to families with a child who has a physical or learning disability, providing a wide range of essential respite and support services - as one of the mothers commented after the party, "We are so blessed to have the KEF family in our lives. Keep doing what you do - it makes our children and us parents so happy and grateful.".
We thank the community for your ongoing support and wishing you a Happy Purim!