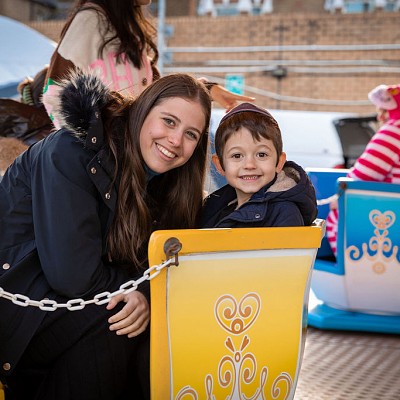 KEF MAD HATTERS PURIM PARTY!
The KEF families put on their best hats and fancy dress at our Purim Party in the KEF Centre this Sunday. The Centre was transformed into a large mad hatters tea party complete with tea pots, fresh cream scones and dainty sandwiches.
The KEF children and their siblings enjoyed non-stop fun with something for everyone to enjoy. There was an exciting range of activities and entertainment both indoors and outdoors; the highlights being arcade games, a petting zoo, balloon modelling, a photo pod and a fairground teacup ride in keeping with the tea-party theme. Soft ice cream was much enjoyed by children and adults alike.
Over 80 volunteers were on site, providing one-to-one care to the children so that their parents could benefit from quality time with each other and KEF's supportive staff. KEF parents have repeatedly testified that the opportunity to take time out in a safe and inclusive setting with families facing similar daily challenges is so beneficial for them, with new friendships formed and solidified. One parent exclaimed, "We would be lost without you!".
At KEF we appreciate that whilst our large family parties and events are extremely fun and exciting for most, it can be an overwhelming experience for some children with special needs, in particular for children with sensory processing disorders. The children were able to access our on-site bespoke soft play, sensory room and chill areas available in our centre.
It was lovely to see so many of the siblings connect with their KEF buddies. Our sibling buddy scheme offers consistent individualised attention and an opportunity for siblings to enjoy activities together