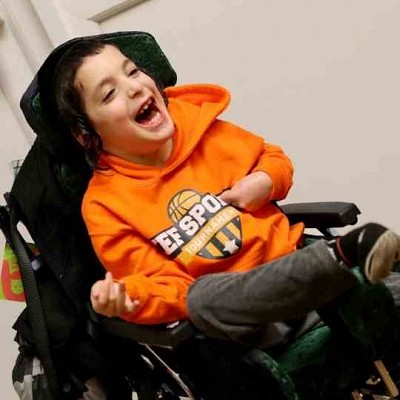 TEAM KEF TAKES GOLD THIS WINTER
Every player was a winner at KEF's recent sports-themed residential camp! Over 60 children and young adults across 5 divisions enjoyed a packed programme of activities and outings, with each day focused on a different sports activity, including football, swimming and of course Bike4KEF!
When it comes to giving the special children of KEF a good time, there is just no competition. Every participant was given countless opportunities to score goal after goal, to build their self confidence and skills, and to enjoy a memorable winter week away. The older boys squad were privileged and proud to be the first beneficiaries of the recently inaugurated Seliger "Kehilla Sefer Torah", uniquely wrapped in a "wimpel" from a newly joined KEF participant. Campers returned home with medals and trophies, exhilarated and refreshed from their experiences.
Organising and running a camp for children with a wide range of complex physical and learning disabilities comes with significant challenges. KEF is hugely proud and grateful to the entire team for ensuring that this years camp was once again a winning success. The impact that this volunteering experience had on our staff was significant, including comments such as, "This camp showed me how accommodating KEF is to every individual camper and everyone's needs are met to the max!" "The love counsellors give their campers after good or challenging behaviour can't be found anywhere else! #onlyinKEF",
Feedback from spectators and fans was more impactful than ever before, including messages from parents such as: "I have run out of superlatives with which to praise KEF!" "Thank you for enabling us to have this desperately needed respite! It was so reassuring to know you were ok with all her complex needs etc – and it was totally heartwarming to see all her smiles!" "I am so emotional at the fact that you managed to put on two camps in such challenging circumstances and to make sure that everyone can have this experience. You are the best people and we are very lucky to be part of the KEF family".
KEF is grateful to its entire team of 150+ dedicated volunteers for their constant commitment, and of course to all our supporters for constantly cheering us on from the sidelines!