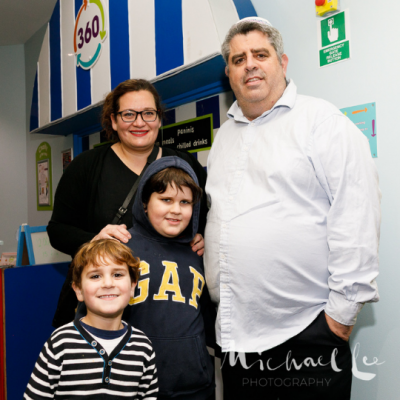 CHANUKAH EVENT LIGHTS UP KEF FAMILIES
After almost two years of no face-to-face family events, KEF treated over 230 family members to an exciting pre-Chanukah party in the Stevenage Leisure Park last Motsai Shabbos. The event took place across three venues on the same complex for the different age groups; 360 Soft Play, Hollywood Bowl and Gravity Trampolining. Families were greeted by volunteers to support both their KEF child and their siblings, enabling the parents to enjoy and connect with the other KEF parents and the KEF team in a designated area with a full array of food and drinks knowing all their children were having a fun time. The freshly baked doughnuts arrived just in time to the delight of all the kids and parents giving a real Chanukah feel.
Trustee Danny Fine commented 'It was great to see so many of the families KEF support enjoying the array of activities with such dedicated volunteers and feeling so at ease with each other. KEF's family events are something that the whole family look forward to and it offers special opportunities to spend time together in a supportive environment where everyone feels special.'
Rochelle from Borehamwood who is mother of Annie who has autism and hemiplegia commented 'Thank you so much for a lovely evening KEF! Annie and Sam had the best evening and we loved sitting and chatting'.
As families all over the world celebrate Chanukah, we would like to thank all our volunteers and supporters for bringing light into the lives of the children and young people at KEF and their families. It is only with your support that KEF is able to provide a wide range of respite and support services, supporting both the individual and their families. Since KEF's inception, together we have supported over 150 children and young adults. Now in our 16th year, KEF continues to support children with a wide range of disabilities and medical conditions. Our services are oversubscribed with a growing waiting list, which highlights the necessity for this vital respite. We thank the community for your ongoing support and wishing you a Happy Chanukah!